Cutting-Edge Technology
HTML5 was built with advanced technology that revolutionizes application development and online communication. It's a cloud solution that is available to anyone, anywhere, anytime.
HTML5 employs WebRTC, a complete solution with high industry adoption that is integrated with main voice and video engines online. WebRTC was created for the Internet to allow real-time communication directly through a browser without additional plug-ins or software. WebRTC combines the network, audio and video components required for voice and video chat applications.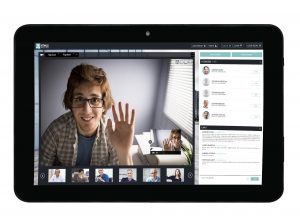 What Makes WebRTC Different? 
Platform and Device Independence
Highly Secure Voice and Video Transmission
Highly Reliable Session Establishment
Multiple Media Stream Capability
Highly Adaptive to Network Conditions
Interoperability with VolP and Video
What Makes HTML5 Different?
Very Easy to User – Zero installation required – just click and go
Low Latency HD Quality – Our technology allows direct HD-quality audio and video
Modular Technology – Modules enable CMS to respond to any customer requirement without restrictions
Full Application Program Interface (API) – Enables intuitive back-end for any product or industry
Built-In Reliability – State-of-the-art technology allows superior connection quality and strength
Security and Privacy – HTML5 technology protects you from the point of scheduling a meeting or webinar all the way to authenticating participants and sharing content
Full Range of Meeting Modes – Choose from webinars and appointment scheduling as well as interactive features such as live chat, screen sharing and document sharing
Widely Adopted Technology – Can be instantly used with all major browsers and mobile operating systems
HTML5 Features for Meetings and Webinars
Unlimited Meetings of Up to 10 Attendees
Unlimited Webinars of Up to 1,000 Attendees
Three Role Types: Host, Alternate Host, and Attendee
Browser-Based – No Downloads or Plug-Ins Required
HD Audio and Video
Desktop Sharing
Application Window Sharing
Chat with Moderation Options
Polls
Virtual Whiteboard and Interactive Tools
HD Recordings with Social Media Integrations
Claim Room Options
Lock Room Options